Support our mission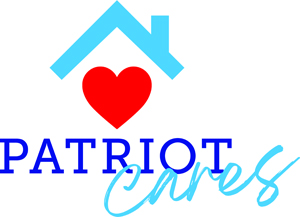 Patriot at Home has launched our very own non-profit organization, Patriot Cares. Creating this new addition to Patriot has been something our Founders have talked about for years and we are excited to have finally brought it to life.
Patriot at Home is committed to the health of those in the communities which we do business.
We strive to fill the gaps where insurance leaves off and finances run short. Our continuous philanthropic efforts are particularly focused on assisting senior citizens and their families, as well as addressing their social determinants of health (SDOH) needs .
We have found that there can be obstacles that limit our full potential of providing adequate care. Many patients have specific needs that insurance does not cover, or they cannot afford. Some examples would be medical equipment, medical dressings, medications, food, or utilities. These are common needs that Patriot Cares will focus on fulfilling..
Patriot at Home has also launched our very own Hospice named Patriot Hospice. Patriot Cares is excited to be able to grant hospice patients a "last wish" in a loving and personal way during such a difficult time. Some last wish examples would be to provide funds for a loved one to visit from out of state and have a proper goodbye, or a patient just wants to see their favorite team play one more time.
Our hearts overflow with the ways in which Patriot Cares can impact our community and the lives of the patients we serve.
Patriot Cares relies strictly on fundraising and donations to fulfill our mission:
Striving to improve the wellness of our community by providing resources and inspiring hope for a healthy future.
Board of Directors
Chair
Kevin Root, Patriot at Home
Secretary
Susan Davis, Patriot at Home
Treasurer
Ken Mcbride, HD Davis CPAs
Contact Patriot Cares
Phone: 330-306-9651
FAX: 330-539-9213